Other hair transplantation techniques

Men and women suffer from hair loss and balding. Hair micro grafts (Follicular Unit Extraction or strips removal) transformed this hair reconstruction surgery.
Thanks to these new techniques, residual scars are reduced.
With FUE, there is no visible scar.
However, in this area one technique is not "better" than another one, since every technique needs to be adapted to every patient depending on his/her balding and expectations.
The procedure is always the same: remove hair from the back and side of the head, where they never fall, to transplant them in the balding areas of the forehead, the vertex and the tonsure.
There are two removal techniques: Follicular Unit Extraction (FUE) and Follicular Unit Transplantation (FUT). 
Other techniques
This procedures consists in removing a long strip from 15 to 18 cm length and about 3 cm width with the vascularization pedunculated uncut, then pivoting around this pedunculated to place it in the forehead area. It is the only procedure which allows high density in the forehead area through one isolated procedure. The operation is performed under local anaesthesia, but you may need some convalescence days before going back to work.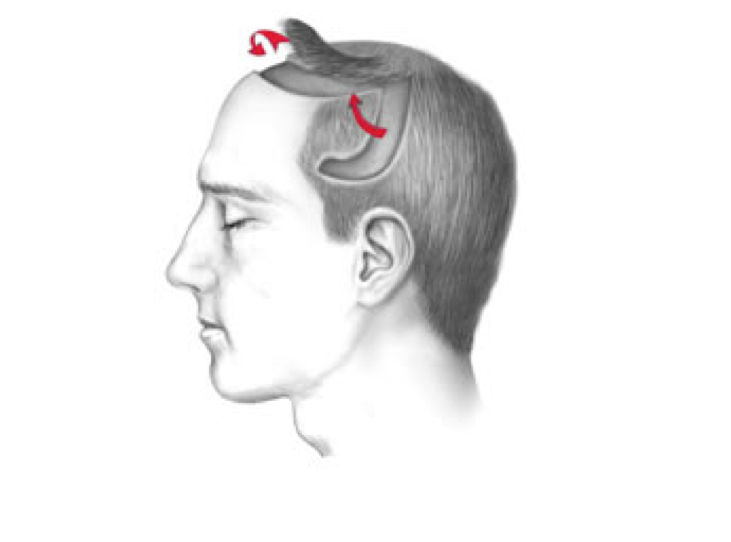 The technique implies removing a part of the balding area and closing immediately by using scalp elasticity. Usually, a 10 to 12 cm length and 3 to 4 cm width area can be removed. This operation is used for the tonsure area, when scalp elasticity is good. The operation is performed under local anaesthesia and you can go back to your activities early. It can be repeated two or three times, with a few months between each surgery.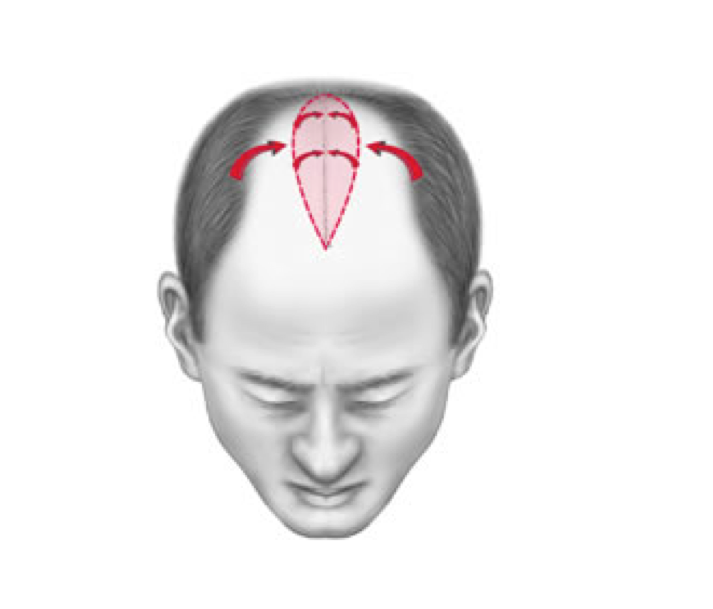 The follow-up
You will need to stop working during 4 to 8 days.
With reductions and flaps, hair does not fall and stitches are removed around the 8th day.
Shampoos are possible 48 hours after surgery. Patients are advised to wait the 4th week after surgery before practising any sports. Headaches can appear during a few days and are well balanced by the usual pain-killers. During the recovery period there can be oedema (swelling) and bruising. Their importance and duration vary from one person to another.
The result
The result is immediate.
Potential complications
Balding correction, even if it is purely aesthetic, is a genuine surgical procedure and implies the risks linked to every surgery, as minor as they are.
Page réalisée d'après les fiches d'information de la Société Française de Chirurgie Plastique Reconstructrice et Esthétique
Page created according to the information sheets of the authority of the French Society of Plastic Reconstructive and Aesthetic surgery (Société Française de Chirurgie Plastique Reconstructrice et Esthétique - SOFCPRE)